Dual Language Immersion at GFW Elementary
Starting in 2023-24 for Kindergarten!
GFW Elementary is thrilled to offer a dual language immersion section for kindergarten in the 2023-24 school year. This is a great opportunity for students and their families, as we are the only school in our area to offer this program!
Two-Way Dual Language Immersion is great for English and Spanish Speakers!
The model we will be using is a 50/50 dual language immersion education program. That means that half of the day will be taught in English and the other half will be taught in Spanish. No matter what language students speak at home, they will get the opportunity to strengthen their own language skills while also learning another language. The class will be taught the same grade level standards as an English-only classroom.
Why offer dual language immersion?
Numerous research studies show that immersion programs are beneficial to all students!
Students in dual immersion programs are able to focus and do better in school, are more successful problem solvers, have better neurological skills, and are more culturally aware and connected with their community.
This is a truly unique and exciting opportunity for our kindergartners and their families! Students who speak English at home experience amazing enrichment through learning another language, and English Language Learners will be able to learn part of the day in their own language while learning English.
What is the future of dual language immersion at GFW Elementary?
This program will continue to grow one year at a time with kindergarten students who register for 2023-24 continuing with the model throughout their time at our school.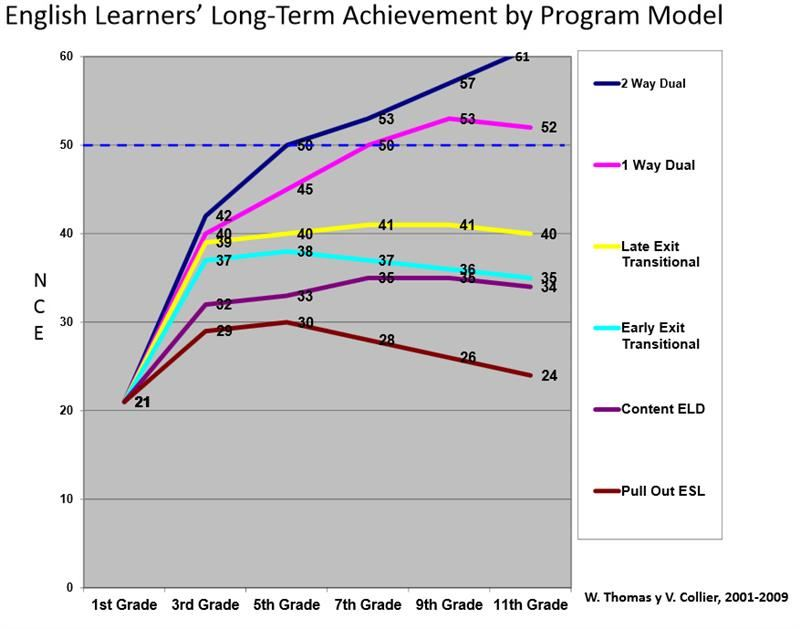 Did you know that data shows that students who participate in two-way dual immersion programs like GFW's outperform their peers academically?